Thanksgiving Day Turkey Trot 2023
Another Turkey Trot is coming your way on November 23rd -- and we can't wait to share this fun morning event with you!
The trot begins at 9am and usually ends around 11am.
Admission
Free - Youth 12 and Under
$10.00 - Youth 13 and Over
$15.00 - Adults 18 and over
Location
Sarg Hubbard Park
111 S. 18th St
Yakima, WA 98901
United States of America

REGISTER NOW!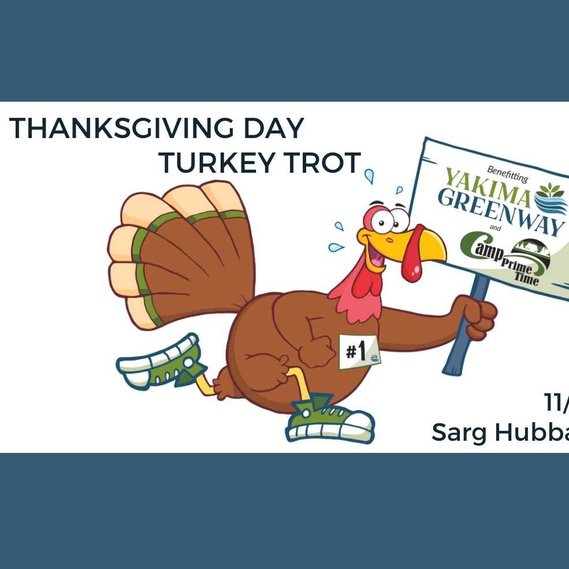 Kid's Fish In
Our Kid's Fish In this year was yet again another amazing event for the kids and families of our community. We look forward to seeing you all again at this event in 2024!


The Gap2Gap Junior & Adult races directly supports and highlights recreation on the Yakima Greenway.
This year's event was a hit and we look forward to seeing you all next year for Gap2Gap at Sarge Hubbard Park.
Yakima Mile
Yakima Greenway has recently partnered with the Downtown Yakima Mile! Our goal is to promote health and wellness in kids and young adults through physical activity and participation in community events.
We look forward to partnering with the Yakima Mile again for 2024!
TURKEY TROT 2022
Thank you to everyone that came out for our Turkey Trot this year. We had over 500 participants and enjoyed every moment spent with our amazing community.
Without further ado, here are our winners for 2023!
Adults
1st - Quinton Rickey - 16:23
2nd - Anders Norman - 17:31
3rd - Andrew Farris - 18:31
Juniors
1st - Max Hutton - 17:45
2nd - Elijah Kreuger - 17:51
3rd - Kian Lancaster - 20:07
Youth
1st - Wolfgang Nelson - 21:18
2nd - Jane Kearns - 27:00
3rd - Noele Sulton - 27:35

Subscribe to Our Newsletter Sign up with your email address to receive news and updates.